Shirt Form Finisher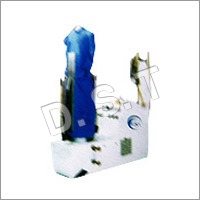 Shirt Form Finisher
Price And Quantity
Piece/Pieces

15500.00 - 80000.00 INR
Product Description
Delhi Steam Traders manufactures and exports Shirt Form Finisher to worldwide clients. Personnel in textile industry use this finisher for checking the finishing of shirts and jackets.
Features of Shirt Form Finisher:
When buying this finishing machine, customers can be assured of its impeccable performance
It is well-known for its perfect finish
It requires periodical maintenance
It can be used for performing finishing task for many years

Specifications:
The shirt form finisher meant for inspection of jackets, ladies dresses and shirts finishing have an optimum air flow for the perfect fit of the garment. This machine comes with an adjustable waist/shoulder width & front/rear fixing clamps and pneumatic clamps for fixing cuffs. The operator can set specific electronic timer of 0 to 60 seconds for steam, super heater air and steam-hot air combination. It also features a pneumatically operated mobile front pad application with heat-blow combination, heat, and blow.
It features a built-in boiler, electric control box, large blower with damper, heat resistant clothing steam radiator, electro pneumatic valves and single/three phase blower motor of 3 hp. The centrifugal blower has large capacity and adjustable damper for regulating air flow. The operator can adjust the foot pedal controls. The counter of the machine indicates the number of articles finished.
The body of this machine is spray galvanized and hot painted. All components of this machine are rust free and can be accessed with ease.

Steam or Electric Heated
Model

Blower
Motor

Blower
Capacity

Steam
Connection
Consumption

Air
Connection
Consumption

Overall
Dimensions

Net. WT/Shipp. WT.
Shipp Size: WxDxH

DST FF

2.2 kw
(3 HP)

2000 lts/sec.
(4250 CFM)

dia.15 (0.5 "BSP)
30 KG/HR
AT 6 KG/CM2

dia.(0.25 "BSP)
100 LTS/MIN
AT 6 KG/CM2

1620x730x1650
1650

18 KG/260KG
1920x1030x1650
3.65 M2